Public Adjuster in Merritt Island and Cocoa Beach

Hurricane Matthew hit Melbourne, Merritt Island and Cocoa Beach with a significant force; you may need the assistance of a Florida public adjuster. We are here to help with your insurance Claim. You deserve to be paid a fair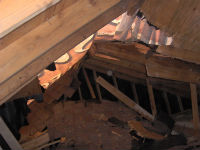 settlement. We believe a fair is the necessary cost of all damage to be replace with like-kind and quality less your deductible.
While we handle all aspects of wind damage to your home, pool cages are frequently damaged, not addressed by the insurance company adjuster, and remain unreported by the policyholder. Careful attention should be given to determine possible racking of the framing and fastener failure. While your cage may still be standing, that fact by itself does mean your unit has not been structurally damaged. If your cage is no longer plumb, it may have to be completely replaced. If the screws that attach the metal members of your structure together have been stretched, reamed out, or loosened, those connections will have to be reconnected. One common way of doing this is to put in larger screws. While that choice seems the best alternative, in reality, it may not be and frequently is not. Various factors come into play when determining if a racked cage can be repaired and not replaced. In fact, building code compliance may require the complete structure to be replaced.
If you need someone who is working in Melbourne, Merrit Island, and Cocoa Beach and is familiar with similar types of failure, please give me a call. If you need someone who can present your loss to your insurance company, as a Florida public adjuster, I can help. Just because an insurance company adjuster says the pool cage is not damage, does not make it so. While some public adjusters demand and scream, I professionally present your loss and validate the costs associated with your repair. Hire experience; in most circumstances, it pays. If I cannot help you, there is no charge for my service.